News Archives
Cyber Club Casino Add 7 new casino games in November
Published 28.10.2014 Author: Editor Category: News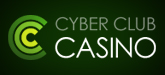 Cyber Club Casino continues to steam ahead in their quest to become one of the most popular online casino destinations. Having recently re-launched with a massive upgrade they now boast over 400 top of the range casino games, many payment processors and high value bonuses making them an attractive propositions for players. This also means they are a good choice for casino affiliates looking for long term partnerships with established brands that will ensure high conversions, player retention and big commission pay-outs each and every month.

It's important to keep adding games and new bonuses to keep players entertained and coming back for more. This month Cyber Club Casino have released the following highly anticipated casino games and slots which are now available from the games library for players to enjoy:

• South Park: Reel Chaos • Titan Storm • Wild West • All American Double Up • Jacks or Better Double Up • Deuces Wild Double Up • Joker Wild Double Up

If you are looking for Casino Affiliate Programs Cyber Club Affiliates is highly recommended by internet-affiliate. For more great tips Subscribe to our newsletter and join our forums @ www.affiliatediscussion.com
---
Online gambling operators invited to apply for official Dutch gaming license
Published 27.10.2014 Author: Editor Category: News



The head of the online gaming licensing authority in the Netherlands has announced the government will soon be inviting online operators to register their interest in securing an official license. Marja Appleman, the current leader of the NGA (Netherlands gaming authority) states that online casinos, poker rooms and sports books will be able to apply for an official license via a registration form soon to be added to their official website www.Kansspelautoriteit.nl

It looks like progress is finally being made in regards to the official licensing of online gambling establishments in the Netherlands with a public consultation being planned for early 2015. The Dutch government intend to consult with market leading operators from the online gambling sector to help establish a fair licensing regime that will allow companies to flourish while also offering high player protection.

At this present moment the Dutch online gambling market is stuck in limbo with casinos, poker rooms and sportbooks unable to "target" punters from the Netherlands. This means no Dutch language website translations, player support or marketing campaigns specifically targeting the lucrative market worth billions of Euros each year!

If you are an affiliate looking for online casino's accepting Traffic from the Netherlands check out www.cyberclubaffiliates.com where you will experience high conversions, fantastic player retention and big commission payouts each month! For more great tips subscribe to our newsletter and join our forums @ www.affiliatediscussion.com
---
Mojo Affiliates offering new and current affiliates 50% Revenue share for next 3 months!
Published 26.10.2014 Author: Editor Category: News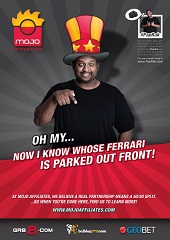 Gr88.com is a world class innovative online gambling brand known for their quirky and imaginative promotional campaigns. You can find the affiliate program for the Gr88 brand at Mojo Affiliates where they are prepared to offer new and existing affiliates a bumper 50% Revenue share commission plan for the next 3 months! Sign up as an affiliate here and contact your affiliate manager to help Mojo affiliates achieve their goal of "increasing your pay-out while increasing our player count".

That's not all in regards to the Gr88.com brand – They have announced they have been chosen as the first Microgaming brand to roll out the new Microgaming Quickfire Bingo games which is now live and available for players. Good news for Bingo affiliates and Tracking links are already available from the affiliate back end, with banners and other promotional creatives on the way!

Mojo affiliates are a highly recommended by internet-affiliate for Casino Affiliates, Sports betting Affiliates, Poker Affiliates and Bingo affiliates, get started today by signing up for an account. For more great tips subscribe to our newsletter and join our forums @ www.affiliatediscussion.com
---
Barcelona Affiliate conference 2014 goes Live!
Published 24.10.2014 Author: Editor Category: News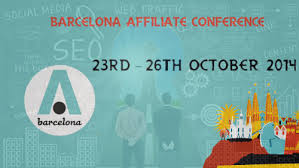 Every year there are affiliate conferences around the world which bring together affiliates and industry professionals face to face in real life as opposed to the standard email and Skype conversations that we are so accustomed to. Communicating through text on the internet gets the job done but can be a little limited not allowing you the opportunity to really get to know who you are working with. This is why these conferences are so popular and successful with lots of business partnerships and personal friendships being formed. The online marketing world can be a lonely place for affiliates so it's a great opportunity for them to meet up with other affiliates allowing them to swap idea and stories and also bag some cracking deals from affiliate managers!

The main affiliate conferences are as follows : The London Affiliate conference (usually takes place around February), Amsterdam Affiliate conference (June) and the Barcelona Affiliate conference is taking place right now in Spain's second largest city which is one of the world's leading tourist, economic , trade fair/exhibitions and cultural sports centres.

The itinerary for this year's Barcelona affiliate conference is jammed packed full of highly qualified speakers from both sides of the fence in the online gambling, Forex, and Binary options affiliate world. Of course like most conferences much time is also allocated for networking opportunities meaning the work hard play hard philosophy is certainly being practised!

Internet Affiliate is the #1 affiliate program resource providing you with information on the best affiliate programs, top commissions rates, latest news and events and more. Get involved Sign up to our Newsletter and join our forums @ affiliatediscussion.com